The Reality is 3D
---
3D Input GmbH – The Next Level of 3D Human Machine Interface
3D Input GmbH provides a miniaturized technology that allows simultaneous input all 6 degrees of freedom (6 DOF) for novel human machine interfaces.
What is it about?
Always, when digital 3D representations are available the users are requested to navigate inside this 3D model. 3D Movements are currently realised with gesture control on 2-dimensional touch screens interpretation multi touch contact points, with common mouse and trackball input devices using buttons to switch between axis and planes to navigate separate each degree of freedom. With 3D Input technologies a continuous, simultaneous fine sensitive input can be realised. Due to the very compact setup, the sensor unit itself can be realised within a 10mm diameter and 8 mm height, which allows integration in e.g. current mobile phones and tables.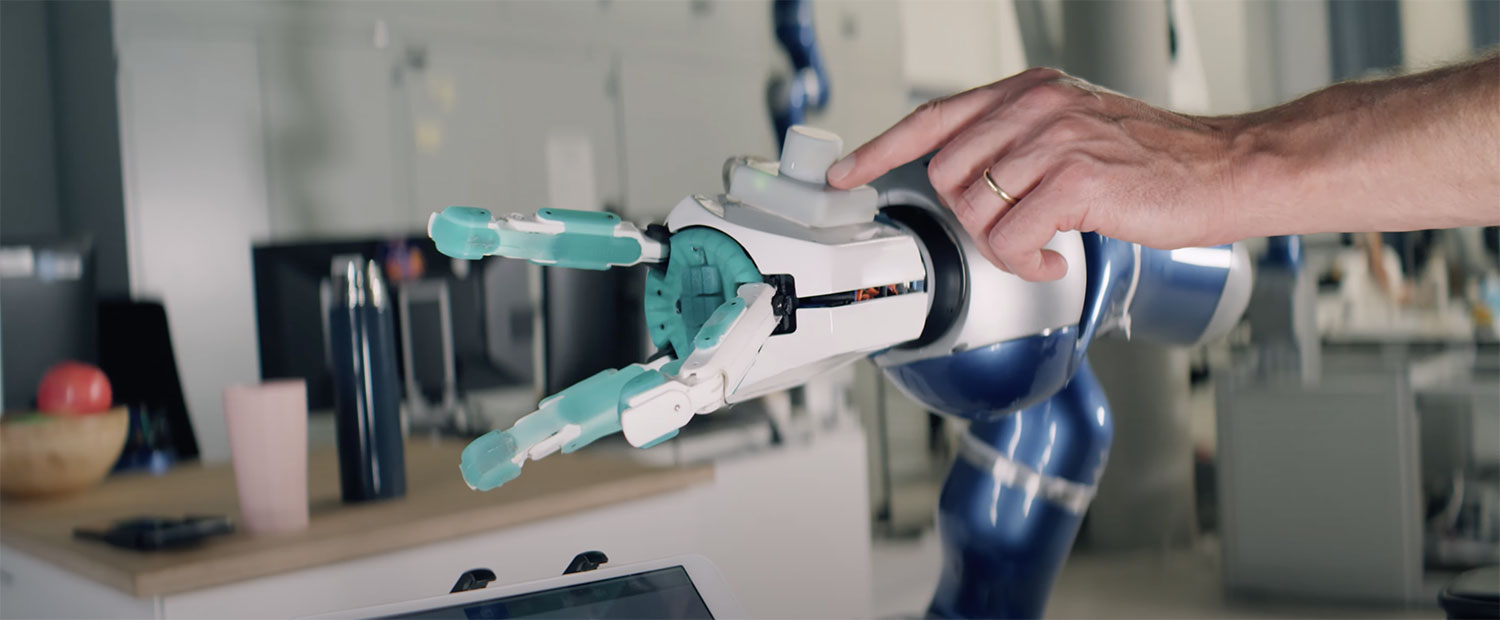 How to use
---
Construction forms by means of a knob which rises from the operating level, as well as a construction form integrated into the surface, which is gripped from above and below, are realisable.
x axis translation
y axis translation
z axis translation (zoom)
x axis rotation
y axis rotation
z axis rotation

Team
---
Dr. Josef Reill, CTO
(Technical development, hardware and technical support)
Dr. Josef Reill earned his degree in electrical engineering from Friedrich-Alexander-Universität Erlangen-Nürnberg, Germany in 2005, followed by his Ph.D. in 2010. During the years 2005 to 2009, he was affiliated with the chair of electrical drives and machines at Erlangen, where his research primarily focused on optimizing vector and sensorless control of permanent magnet synchronous motors.
Since November 2009, Dr. Reill has been a part of the German Aerospace Center, specifically the Institute of Robotics and Mechatronics. Within this role, his primary focus has been on controlling permanent magnet synchronous machines utilized in robotic joints for applications both on Earth and in space. Notably, he leads the electrical drives initiatives at the institute and has played a pivotal role in coordinating the mobility subsystem of MASCOT.
Open/ Close
---
Dr. Armin Wedler, CEO
(Business development, mechanical development)
Dr. Armin Wedler, with a background in Robotics and Mechanical Engineering from Leibniz Universität Hannover, earned his Ph.D. specializing in adaptive passive-compliant systems for robotics in 2010. His career then led him to the German Aerospace Center in 2008, where he played pivotal roles in space robotics, planetary exploration, and mobile robot systems, contributing to significant projects like EXOMARS, AHEAD, and several HGF initiatives like ARCHES and iFOODis.
His expertise further expanded into autonomous systems and team leadership, overseeing planetary exploration, field robotics and the mobile robotic activities at the DLR-RM-Institute since 2014. Dr. Wedler also serves as a journal and conference reviewer and has a strong presence in the field.
Further information:
https://rmc.dlr.de/rm/de/staff/armin.wedler/
Open/ Close
---
Tobias Wedler, CFO
(Financial Administration, sales manager)
Tobias Wedler is a trained economist (Degree: Diplom Ökonom an der Leibniz University of Hannover) and since the age of thirteen entrepreneur and passionate startup enthusiast. With his company Smart Concept, he participates together with his brother Dr. Armin Wedler in startups and advises companies in the field of entrepreneurship. At the Innovation Center in Lower Saxony, he is head of the start-up division since 2017, on behalf of the Ministry of Economy, Labour, Transport and Digitization. In his role he is responsible for the initiative Startup Niedersachsen and he is regional speaker of the Federal Association of German Startups e.V. in Lower Saxony. For the Entrepreneurship Center of the Technical University of Brunswick and the Ostfalia University, he has spent the past three years an exchange program in the Silicon Valley to Companies like Google, Facebook, Tesla, Plug and Play and many more. Tobias Wedler is Ambassador in GISEP (German Israeli Startup Exchange Program). He has an extensive Network of contacts in the national and international start-up scene.
Further information:
https://www.linkedin.com/in/tobias-wedler-560a3819?originalSubdomain=de
Open/ Close
---
Contact us
"*" indicates required fields
Contact Information
3D Input GmbH
Claude-Dornier-Straße 1
82234 Weßling
Amtsgericht München
HBR 248423

Finanzamt Fürstenfeldbruck
St.Nr.: 117/124/81910